Analytics for Fire Professionals
If you can use a mouse, you can use Analytics. We've made this award-winning platform so easy to operate, you can be up and running within minutes. Whether you're an expert or a novice, Analytics gives you instant, flexible access to data for all levels of reporting.
Uncomplicate Your Data
Your data may be complex, but you don't need a PhD to understand the metrics within your organization. Analytics does the heavy lifting, so you can easily have insight into your department. Understanding your data couldn't be easier.
Personalize Your Reporting
With pre-built reports or the option to create your own, the power is in your hands.
Data Becomes Actionable
Leverage your data into real world insight. Monitor performance, uncover gaps and make operational decisions based on what you learn from the data you collect.
Built-in Reports
Find multiple reports already at your disposal from fire operational reports to inspections.
Drill Down into Your Data
Sometimes you need a high-level summary, and sometimes you need detail. Analytics does both: Start with a graphical view of overall performance, and then simply drag the sliders to view by quarter, month, week, day or even hour.
Data Viz Made Easy
Analytics provides multiple easy to read data visualizations, configurable charts and best of all, you export for your own data diving needs.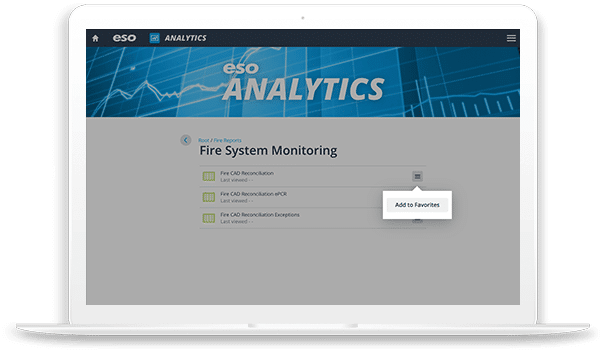 Save your favorites
Save time and find your most used reports easily by simply saving them to your favorites and never go searching again.
Get Specific
Configure reports in the way you want to see them. Advanced reporting features let you mine as shallow or as deep as you like within the data you've collected. You'll feel confident speaking to your department's performance.
Analyze Trends
Review performance over time and highlight where opportunities for improvement exist.
Improve Operational Efficiencies
When you turn your data into actionable information, you can ultimately make better response, operational, and planning decisions. Who doesn't want that?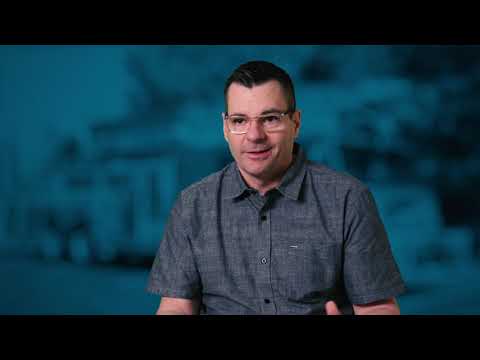 Testimonial
Better Care & Easier Reporting with EMS & Fire Software
Testimonial
Identifying EMS Data Safety + Care
Testimonial
Analytics Help EMS
Testimonial
Smarter Software, Better Insights with ESO
Testimonial
See What Complete EMS & Fire Software Can Deliver for Your Department.
Testimonial
Why You Should Make the Switch to ESO
Don't just take our word for it...
ESO Fire Incidents makes inputting data easy, giving us valid, reliable data on a consistent basis. It's definitely streamlined our fire reporting process.
Frank Vrklan
Battalion Chief Miramar Fire Rescue, Fl
Welcome to the ESO Resource Library
Everything you need to get the most out of Analytics
Request a Demo
To hear about more features or schedule an eye-opening demo, contact us today.