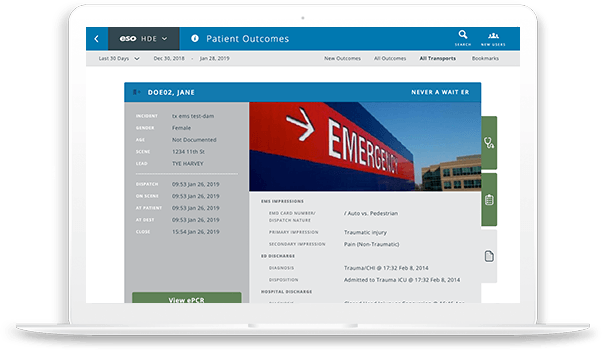 Real Interoperabilty for Hospitals & EMS
HDE provides true bidirectional data sharing – the EMS record flows directly into the hospital EHR/EMR, and hospital clinical outcome information is available to EMS in real-time. Data is shared back into a secure outcome portal, so you can easily review and compare assessments.
Close the Loop on Data
ESO HDE connects EMS and hospitals in multiple sites using a variety of EMS and hospital data sources — the only platform to do so.
Change the Care Continuum
Hospitals can automatically and securely share clinical outcome data with EMS so you can review and improve protocols ensuring better outcomes for patients in your community.
One-Click Reimbursement Data
Use HDE with ESO Payer Insights and get easy access to hospital-gathered insurance — your billing staff can import hospital demographic data directly into ESO Billing.
Skip the Line
ESO HDE lets you send ePCR data directly into the hospital EHR or EMR, ensuring you no longer have to wait to print or receive faxes at the ED to transfer information.
Receive Discrete Data
Access demographic, billing and clinical outcome data, such as vitals and procedures with results, ER physician notes, lab results and imaging and detailed cath lab results so you can see the full spectrum of care after drop-off.
Integrate with ESO Analytics
Data generated in ESO HDE integrates with Analytics for more robust and in-depth reporting.
Activate QA/QI
HDE allows quality managers to bring together EMS and hospital performance data for the first time. That means making it easier than ever to do system quality improvement – and study the entire care continuum.
Develop System Improvements
Compare primary impressions with hospital diagnosis to understand where protocols need to change and update.
Create Stronger Training Programs
Insights gleaned from HDE can help trainers develop more informed training on protocols and other operational areas.
Identifying EMS Data Safety + Care
Firefighters & EMS Work Smarter
ESO EMS Index to Put Data into Practice
Testimonial
Smarter Software, Better Insights with ESO
Testimonial
Keeping EMS Connected with Patient Outcomes via ESO HDE
Testimonial
See What Complete EMS & Fire Software Can Deliver for Your Department.
Testimonial
Why You Should Make the Switch to ESO
See what our customers are saying...
Getting that data and then being able to apply that data to make changes in how we practice medicine, I think that that is where ESO is head and shoulders above anyone else who is out on the market at this point
Bill Keely
Division Chief of Clinical Services, Kootenai County Emergency Medical Services System
Welcome to the ESO Resource Library
Everything you need to get the most out of HDE
Request a Demo
To hear about more features or schedule an eye-opening demo, contact us today.